Zephani Idoko Talks 'Nanny', 'Gossip Girl' and Making Horror Movies
December 16, 2022
At the 2022 Sundance Film Festival in January, the film Nanny began its spectacular run this year by winning the Grand Jury Prize, making it the first time a horror film has received this honor. It was a win for Sierra Leonean American director Nikyatu Jusu and the cast of this intimate, haunting tale, and signaled the kind of success the film would achieve over the course of the year.
In the film, Aisha, a Senegalese immigrant, struggles to build a new life in New York while yearning to reunite with the child she left behind. As the caretaker of a little girl, she immerses herself in her duties, while trying not to face a harsh reality that threatens to destroy her American dream.
Zephani Idoko plays the supporting role of Sallay, hairdresser and Aisha's best friend. The Lagos-born actress was trained by Diane Baker at the San Francisco Academy of Art, where she earned a BFA in Acting for Stage and Screen, and began her professional career. Since then she has played Abena on The Destabilizera psychological horror film, and was on the Starz show Power Book II: Ghost, where she plays the role of Stephanie. She is also to be seen in the current season of Gossip Girl to restart.
Idoko talks to OkAfrica about his role in Nanny and the importance of movies like this to mainstream Hollywood audiences.
Responses have been edited for length and clarity.
In Nanny, you play as Sallay, a character who is an essential anchoring force for Aisha. Tell us a bit about her.
Sallay is one of Aisha's centers of joy in the film. She is Aisha's closest friend, who cares deeply for her. The times they have together are the times when Aisha lifts the weight of everything going on in her life. There is a strong brotherhood between them, and it was a joy to play.
There have been changes in Sallay for you?
Sallay was not recognized as a Nigerian when I auditioned. Nikyatu was sure she wanted her to be West African because it's based on a real person in her life who is Sierra Leonean. But I made it Nigerian, and Nikyatu decided to keep that authenticity.
Nanny is decidedly African, there are plenty of cultural references, from food to music and more. There aren't many projects in mainstream Hollywood that are successful.
I continue to be so excited and grateful that I got to be a part of this because it made history on so many levels. What you see there with the authenticity and the precise references comes from the intentionality. Nikyatu is an American from Sierra Leone and she is the daughter of immigrant parents.
There's a difference between filmmakers who borrow from the culture and try to do it justice, and those who know firsthand what they're representing and are very deliberate about it. This is certainly how you feel in the authenticity of these moments.
I know making sure the right actors were cast was a priority for Nikyatu, so she was very active on that. She was also very director of actors. We'd go on set sometimes and she'd ask what felt most natural for us to say at the time, and if it felt more true to the mood or the character, she'd let us tweak the lines a bit. This contributed to the flow and authenticity of these moments.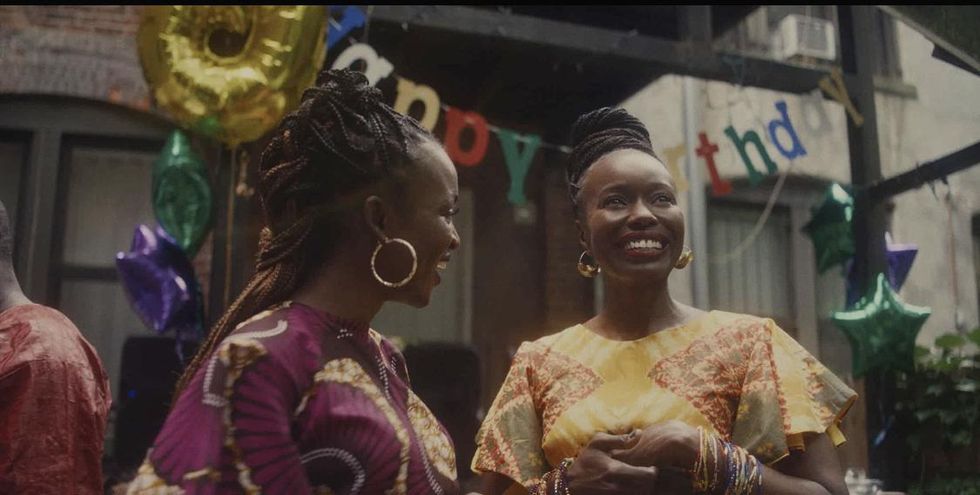 Zephani Idoko [L] and Anna Diop [R] in "Nanny",
Photo: Prime Video
This also brings me to a larger question about African representation in Hollywood. What do you think of what is happening now?
I think that Nanny is the first Hollywood movie I've seen that portrays an African lead and does an amazing job of it. I want to see more. I don't think it's done enough yet, but we're going in the right direction; Hollywood as a whole, in terms of authentically telling African stories. This is just an amazing example of that.
There are a lot of things in this movie. It tells an important story of immigrants and domestic workers. But there's also so much more to it — brotherhood, romance, and multicultural black love. The nuances of this are beautifully explored. All in all, it's really exciting to see a movie like this on the big screen.
you worked on The Destabilizeranother horror movie and now Nanny. Is horror one of your passions?
I haven't specifically sought out and chosen to do horror movies the last couple of times, but it happened as a very happy coincidence. I'm a fan of horror, especially supernatural horror, so I'm grateful to have been able to work on unique scripts. I also really appreciate the new wave of horror movies we're getting that aren't just your typical horror with the classic tropes and scares. These new movies are also relevant, character-driven, and poignant. I think Nanny and The Destabilizer are two excellent examples.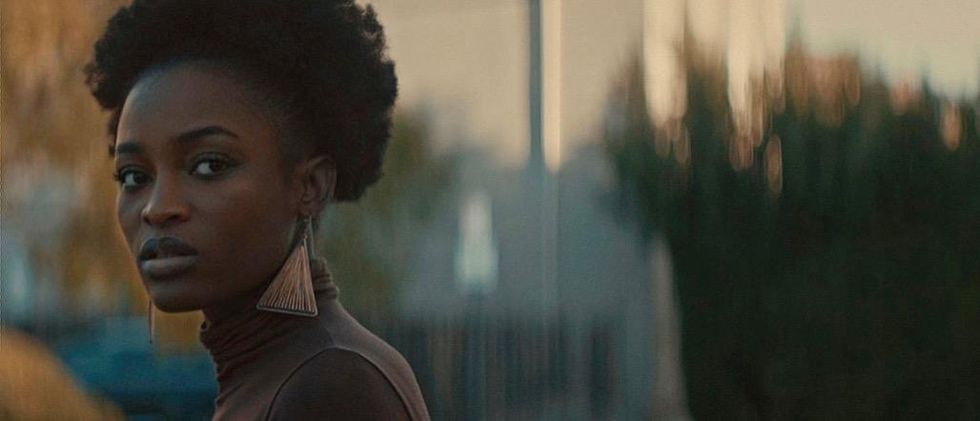 Horror films like "The Unsettling", in which she plays Abena, are Zephani Idoko's favorite.
Photo: still from the film
What would you like people to take away from Nanny when they watch it?
I know one of the intentions behind this is to center a dark-skinned black African woman because that's not something that's done often enough in Hollywood. I want people to see Anna Diop playing Aisha and feel represented in the mainstream, and feel the love and the intent behind it. I hope it creates empathy when people watch it and gives insight into the history of immigrants and their experiences. Most importantly, I hope people enjoy it, because I really enjoyed this movie from script to finished work.
You were cast in the second season of the Gossip Girl to restart. What can we expect from your character?
My character's name is Ashley, and there's still very little I can say about her, because she's coming in the sixth episode, which doesn't air until December 29th. But I was on vacation when I auditioned and I ended up having to do a really weird setup in my hotel room to film it, moving all the furniture around to get enough light and setting up my camera on a random shelf and all. I did and forgot about it. Three days later I received an email saying I had been cast. It's crazy cause I was pretty into the original Gossip Girl as a teenager, before I even knew I wanted to be an actor, and now I can be on the new one and be part of its improvement on the diversity of the original. I'm excited for everyone to meet Ashley in a few weeks.
From articles on your site
Related articles on the web
window.REBELMOUSE_ACTIVE_TASKS_QUEUE.push(function(){
!function(f,b,e,v,n,t,s) {if(f.fbq)return;n=f.fbq=function(){n.callMethod? n.callMethod.apply(n,arguments):n.queue.push(arguments)}; if(!f._fbq)f._fbq=n;n.push=n;n.loaded=!0;n.version='2.0'; n.queue=[];t=b.createElement(e);t.async=!0; t.src=v;s=b.getElementsByTagName(e)[0]; s.parentNode.insertBefore(t,s)}(window, document,'script', 'https://connect.facebook.net/en_US/fbevents.js'); fbq('init', '581561272001865'); fbq('track', 'PageView');
});
window.REBELMOUSE_ACTIVE_TASKS_QUEUE.push(function(){
(function(d) { var e = d.createElement('script'); e.src = d.location.protocol + '//tag.wknd.ai/4252/i.js'; e.async = true; d.getElementsByTagName("head")[0].appendChild(e); }(document));
});
window.REBELMOUSE_ACTIVE_TASKS_QUEUE.push(function(){
!function(f,b,e,v,n,t,s) {if(f.fbq)return;n=f.fbq=function(){n.callMethod? n.callMethod.apply(n,arguments):n.queue.push(arguments)}; if(!f._fbq)f._fbq=n;n.push=n;n.loaded=!0;n.version='2.0'; n.queue=[];t=b.createElement(e);t.async=!0; t.src=v;s=b.getElementsByTagName(e)[0]; s.parentNode.insertBefore(t,s)}(window,document,'script', 'https://connect.facebook.net/en_US/fbevents.js'); fbq('init', '1764723736944867'); fbq('track', 'PageView');
});
window.REBELMOUSE_ACTIVE_TASKS_QUEUE.push(function(){
window.REBELMOUSE_STDLIB.loadExternalScript("https://pagead2.googlesyndication.com/pagead/js/adsbygoogle.js", function() {
});
});
window.REBELMOUSE_ACTIVE_TASKS_QUEUE.push(function(){
(function(h,o,t,j,a,r){ h.hj=h.hj||function(){(h.hj.q=h.hj.q||[]).push(arguments)}; h._hjSettings={hjid:2018996,hjsv:6}; a=o.getElementsByTagName('head')[0]; r=o.createElement('script');r.async=1; r.src=t+h._hjSettings.hjid+j+h._hjSettings.hjsv; a.appendChild(r); })(window,document,'https://static.hotjar.com/c/hotjar-','.js?sv=');
});
window.REBELMOUSE_ACTIVE_TASKS_QUEUE.push(function(){
var _qevents = _qevents || [];
(function() { var elem = document.createElement('script'); elem.src = (document.location.protocol == "https:" ? "https://secure" : "http://edge") + ".quantserve.com/quant.js"; elem.async = true; elem.type = "text/javascript"; var scpt = document.getElementsByTagName('script')[0]; scpt.parentNode.insertBefore(elem, scpt); })();
_qevents.push({ qacct:"p-6FjyzX7rRdcrz" });
});
window.REBELMOUSE_ACTIVE_TASKS_QUEUE.push(function(){
window.REBELMOUSE_STDLIB.loadExternalScript("https://www.googletagservices.com/tag/js/gpt.js", function() {
});
});