What Wrestle Kingdom 17 said about the new Japan
January 9, 2023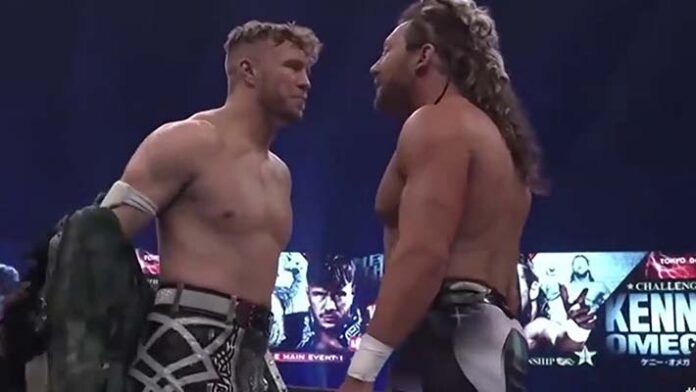 Earlier this week, New Japan Pro Wrestling presented their flagship event of the year, Wrestle Kingdom at Tokyo Dome in front of over 25,000 fans. The Japanese league, very similar to other wrestling groups, has been hit hard by the pandemic, with reduced attendance for the past two years. For comparison, the traditional January 4 event drew a combined 70,000 fans for two nights in 2020 before the pandemic shut down the world. Travel restrictions have kept many foreign stars from traveling to Japan and limited capacity has kept ticket sales to a minimum to follow social distancing guidelines during the peak of restrictions.
Wrestle Kingdom 17 was the first Toyko Dome event where the promotion could return to its usual major event of the year, a show that is a staple of the wrestling calendar worldwide. With such a big stage and the increased exposure of the Tokyo Dome, what is the direction of the organization now?
The show kicked off with the Jr. Heavyweight tag titles between Catch 22 and Lio Rush and Yoh, and it was the typical fast-paced opening you expect from New Japan. The match was decent, but TJP and Lio Rush are individually insufferable, so I'm not going to discuss the match further except to mention that Catch 22 retained the belts.
Kairi defeated Tam Nakano to retain the IWGP Women's Championship, and while it was disappointing that this match only lasted five minutes, it at least looks like Stardom's stellar roster will continue to enjoy increased exposure under the Bushiroad banner. With New Japan and Stardom being owned by the trading card company, it allows more to be done with the women's group, including funding to sign a contract with new league star Mercedes Mone, the former Sasha Banks. Rumor has it that Mone will arrive in All Elite Wrestling soon, but that's a different discussion for another time. I must say that his debut in New Japan was rather disappointing. The promo she cut was pretty flat and was almost structured like a WWE promo that didn't fit in with Japanese audiences. The move she attempted on Kari failed and her new hairstyle looked like she lost a bet. However, there have been reports that Wrestle Kingdom has increased viewership on the New Japan streaming service, so from a purely digital standpoint, Mone's debut was a success. During the promo, she announced that she would be attending the company's Battle in the Valley in California next month. On the one hand, it would be wise to use Mercedes to continue to increase crowds in Japan to attract more people after the pandemic slump. On the other hand, due to the transportation costs associated with US events, these shows have very high ticket prices, so a former WWE star on the card can help sell tickets.
Mercedes Monè (FKA Sasha Banks) officially makes her NJPW debut and comes face to face with KAIRI! 🚨🚨🚨#WK17 #NJPW
pic.twitter.com/a1miKJxkDm

— Future Endeavors (@FutureEndeavors) January 5, 2023
Hirooki Goto and Yoshi-Hashi beat FTR to win the IWGP Tag Team Titles, and it's interesting to wonder what that might translate to as Dax and Cash have lost every set of tag belts in a span of relatively short time. The actual match was solid and was an entertaining fight. Still, it should be noted that despite being the tag champions, the belts they won at the Forbidden Door pay-per-view in June, it seemed like most Japanese viewers were unfamiliar with FTR. The bigger story might be what this loss could indicate for FTR's future. A few months ago, there were rumors online that the team might opt ​​out of renewing their AEW contracts, opting to work the Indies instead of national television. The fact that FTR, despite receiving secondary championships as props on Dynamite, was still completely underutilized in All Elite. If Dax and Cash decide they'd rather work on the regional circuit than TBS, that's a statement about Tony Khan's inability to max out the roster. Make no mistake, FTR was the top tag team in the business last year, but weren't booked on any of the AEW pay-per-views. The biggest exposure given to the team on Dynamite was when Dax had some great singles matches on Dynamite before getting pinned. I'm not usually a conspiracy theorist, but it certainly seems like FTR was kept out of any position that would have allowed them to potentially upstage the Young Bucks, especially the fact that FTR wasn't featured at the card and The Bucks didn't put them on for the AEW tag titles. Ultimately, if Tony Khan allows Dax and Cash to leave All Elite, it will say a lot more about his lack of proper management than it does about their ability in the ring.
🔥東京ドーム大会 WRESTLE KINGDOM 17🔥

IWGP タッグ選手権試合‼️
FTRが序盤からフルスロットル💥毘沙門危うし‼️

🆚 @YOSHIHASHICHAOS & @510njpw × @DaxFTR & @CashWheelerFTR
📲 LIVE on #njpwworld📡

登録&視聴|Register now‼︎
⇒https://t.co/z1DNREh66D#njpw #wk17 #AEW pic.twitter.com/w2jSBjQYl7

— njpwworld (@njpwworld) January 4, 2023
Zack Saber Jr. defeated Ren Narita by submission to win the New Japan Television title. It goes without saying that the last thing NJPW needs is another championship, but this was a very good technical game. The argument could always be made that Saber Jr. is the best technical wrestler in the world, and this contest also gave Narita the chance to progress. He was lucky enough to look like a contender instead of just a young lion, and traded counters with Saber Jr. before the British grappler got the win.
Tama Tonga beat Karl Anderson to win the Never Open Weight Championship, and while there are too many titles in the business, the Never belt isn't exactly the most prestigious on the card, it's made history. fun for this fight. As we know, Anderson re-signed with WWE when he was still champion in New Japan, so in some ways this contest allowed Tama Tonga to "fight for the honor" of the Japanese organization. to get his belt back. It was a rather short match, but Karl got offended early on, which made it look like he could hold off to continue a possible storyline where he retains the New Japan Championship. In the end, Tama scored the pin and it was probably a one-off return for Anderson before he continued full-time in WWE, but it was an entertaining storyline and it shows why some exceptions can be made. to work together can be useful, even for WWE. Anderson returning to New Japan to drop the belt does absolutely nothing to embarrass WWE, but it does give New Japan an extra boost for their biggest event on the schedule. It may not be WWE's transnational ethos, but it benefits everyone in the industry when other promotions remain stable, as today's New Japan stars could eventually be assets to that WWE signs in the future.
Keiji Muto, Hiroshi Tanahashi and Shota Umino defeated Tetsuya Naito, Sanada and Bushi. There wasn't much to this six-man fight, but it didn't have to be, as it was more of a celebration of Muto before his retirement. One of the organization's Three Musketeers in the '90s, Muto has such legendary status that only his appearance on the card for his final New Japan game before retiring in a few weeks was a neat segment. Shota Umino got the pin for the team to win the contest.
One of the criticisms of the New Japan style is that some of the content tends to be very formulaic, and that's what happened during the second half of the map, which isn't necessarily a negative since there was some quality action, but could impact the view of the presentation. Most mid-term matches lasted around ten minutes, so the event had a good pace. The four-way Jr. Heavyweight title match was solid, but it was more or less the same multi-contest match you'd seen many times before in New Japan. Watching this live on the East Coast, you simply don't have to repeat a game you've seen before. Hiromu Takahashi picked up the win, but it wasn't exactly a match to be seen on the card.
Then Kenny Omega made his long-awaited return to New Japan, an organization where his work more or less helped launch All Elite Wrestling, and it looks like he had something to prove in that comeback. Will Ospreay, a former IWGP heavyweight champion, transitioned from the top-flight Jr. heavyweight division to work a more main event style that focused more on the physicality of the traditional Japanese style. only on strengths. Despite a stellar main event, Omega/Ospreay might have stolen the show. This match had fast action, intense exchanges and drama towards its conclusion. Omega took a stiff kick to the face in the corner and seemed to have a lot of swelling near his eye, so hopefully that doesn't affect his AEW schedule. Dave Meltzer of The Wrestling Observer reported that this was to be the start of a series of matches between the two that could span both promotions, which would be a very unique storyline that would benefit both companies. Meltzer also called it one of the greatest games of all time, but I wouldn't go that far at all. Too often Meltzer throws in the term "game of the year" or gives something 87 stars more at the time of a big game than anything else. Still, it was a terrific fight well worth watching if you haven't seen it. With this victory, Omega won the IWGP US title, but I don't think that really confirms its status in Japan. The US belt isn't usually defended often, so it will be interesting to see if the next Omega/Ospreay contest is reserved for AEW or Japan.
Some of the highlights of the Will Osprey vs. Kenny Omega match are absolutely phenomenal. #wk17 #WrestleKingdom #OspreayVsOmega #KennyOmega pic.twitter.com/eOfv8L4hTv

— Irish wrestling and entertainment 📺 (@IRISHWRESTLING8) January 4, 2023
As mentioned, the main event between Kazuchika Okada and Jay White was stellar, but similar to what was mentioned earlier, this fight had a formula and these two had a series of matches before. It was a great match, but if you've seen any of their previous contests, you've more or less seen this fight before. That doesn't take away from the quality of the performance, as there was that amazing comeback and fourth action that you'd expect from a Tokyo Dome main event, but there wasn't necessarily anything new or revolutionary during the main event. Okada was victorious to reclaim the IWGP Championship.
What do you think? Share your thoughts, opinions, comments and anything else that came up on Twitter @PWMania and Facebook.com/PWMania.
Until next week
-Jim LaMotta
Email [email protected] | You can follow me on Instagram and Facebook @jimlamotta89