How Dana White overcame a racist upbringing to succeed in business
December 17, 2022
Dana White recently became the first black woman to launch a national hair salon franchise campaign. Her brand, Paralee Boyd, named after her grandmother, focuses on hair health and treatment for women of color, using hydrating and healthy ingredients and techniques. She launched her first salon in Detroit in 2012 and doubled shortly after, but was forced to close during the pandemic as the city's downtown population density declined.
Now, it has launched a new, renovated flagship location in Arlington and is actively seeking franchisors to help grow the brand nationwide. She also landed a global contract with the US military to open salons on military bases. The first of these opened at Fort Bragg in November, and two more National Air Force bases are in the works. Others at U.S. Army and Navy bases overseas will arrive soon after. "In a year, I hope to open another location in North Texas," White says, "so the goal is to go to Atlanta."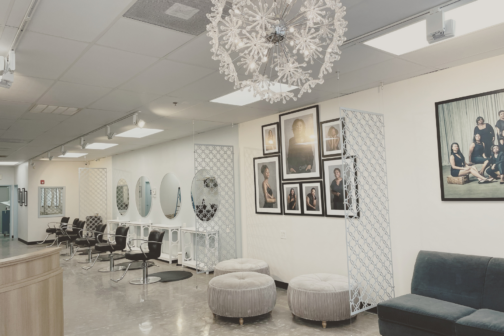 Here, as part of D CEO's My Reality series, she shares her struggles with blatant racism during her upbringing, throughout her career with a workers' rights organization in New York and as she built her salons.
Growing up in a suffocating environment
"I'm from a town called Kalamazoo, Michigan. It was your quintessential small town, but not too small. I went to a school called St. Monica, and I was maybe one of three or four black kids. One of them was my brother, and he only stayed for a few years. He was in first grade when he left. I was in third. We found that he wasn't learning and my parents couldn't understand why. We found out that the teacher refused to teach him and another young man named Eli Hawkins, who was also black. She had them sit in the back of the class, facing the wall, for most of the first year. They both had to redo the first year. [My parents] transferred my brother to another school. I stayed because I was doing pretty well.
"Unfortunately, Kalamazoo was simply not equipped. If you look at my eighth grade yearbook, there's a picture of the principal's daughter in her grandfather's KKK uniform. We were all doing historical reporting, and we were disguising ourselves as the people we were reporting on. She was reporting on the KKK, and she came to school in her grandfather's KKK outfit.
"I look back and say, 'Mom, why was that OK?' Our parents were taught that a white education is the right education; that it's better than going to an underprivileged public school system, which was predominantly black at the time. Public schools in Kalamazoo County aren't bad, but they weren't private schools. Private schools are a bit better. The cost of that is racial issues.
"My father died suddenly of a heart attack when I was 11 years old. I struggled afterwards and in class I sat at my desk. My teacher said 'Dana, I need you to study. I need you to work. I said, 'I'm really struggling. She asked, 'Why? You do not understand ? I said 'No, I do. But right now, I just miss my dad. She said 'What did you expect? It was one [slur]. He was going to die.' I will never forget him. It wasn't 1943. It wasn't 1968. It was 1988 or 1989 in a northern town.
"I went to high school in a suburb of Kalamazoo called Portage. They had "National Wigger Day," where all the teachers and students dressed in stereotypical black street clothes – rags, sagging pants, upside-down hats – and the teachers spoke the dialect they thought black people spoke. . Everyone would crack up. The kids were participating, and as a black girl, I'm sitting there thinking, "That's not me." It was completely inappropriate.
"Once a classmate said, 'Dana, you act like a [slur].' So I went to tell the mistress and she said, 'Well, were you acting like one?' I called my mother. My mother came to high school and took me home. She said: 'We have to figure out what we're going to do. I'm taking you out of school today. Then the story came out. The media came to our house and my mother did an interview.
"My mum fell on the news and said, 'I will protect my children by any means necessary.' It was around the MLK holiday. The neo-Nazis and white supremacists fired on our house and wanted to get us out. My mom was a police officer, so we had a lot of police cars looking after us, but it was the environment in which I grew up.
"If it weren't for my parents teaching me how to deal with this without being a victim and without being angry, I wouldn't be where I am now. He was a great character builder. J got an incredible education that has equipped me to this day to do what I do.
Going through professional challenges
"I came into union organizing seeing the disparity between management and members; see that the members have only reached so far; seeing that the people running it went to Ivy League schools and they were all white. There are great people working for people's rights, but there are also people out there who think it's a business like any business, and it wasn't always fair. I was terribly sexually harassed and left.
"For African American women, getting your hair done has always been a challenge. You have to know the right stylists. All the moons have to line up perfectly. I got sick of it. I didn't want it to be a challenge anymore. J I thought 'Why can't we have some great clips for us? Why can't we have a place where we can go to get a reasonably priced hairstyle that suits us?'"
"I got a settlement for everything that happened with the sexual harassment, and took a year to do as much work as I could on my salon concept. I moved back to Michigan in September 2012. I had a space ready to go, and it opened in November.
"Even while I was building my location in Michigan, the contractors were all white males. They said 'Do you know when the owner will be here? We are ready to start the meeting. I said 'Yes, I'm here. Can I help you.' They said, 'Well, can you just call and find out when they're coming?'
"I left them waiting. Five more minutes passed, and they said, 'OK, [the owner] 10 minutes late. Are they normally late? I said, 'I'm here. Can I help you.' They're like, 'Well, who are you?' I said, 'I am the owner.' They said, 'Why didn't you tell us you were the owner when we asked for the owner?' I said, 'Why did you assume I wasn't the owner?'
"Because of the location of the salon, they assumed I was the person working for the owner. A lot of black business owners let you think they're working for someone white because you are treated differently The white business owner who is not in the meeting is more respected than the smart black girl working for them I actually acted like I was working for a non-existent owner .
A new start
"I love Texas because people meet you where you are. Here, if you're racist, you tend to stay away from people like me. You don't have to exude your will or what you consider to be your power of racism. You don't need me to validate your racism. In Michigan, it was like people were thinking 'I need you to know that I'm racist'. I need you Please know that I don't want you here. I found it harder even from a customer service standpoint.
The idea of ​​going beyond – I haven't really seen that in Michigan. Here, you can stop at a Chick-fil-A, and they'll see and talk to you in the driver's side window while they wait for your order. I was at Home Depot last night to return something, and [the clerk] I saw something on the receipt before me. She tried to check twice and three times. I didn't have to ask him to do it. People do the work they want to do. »
Author
Kelsey Vanderschoot
See profile


Kelsey J. Vanderschoot came to Dallas via Napa, Los Angeles, and Madrid, Spain. A former teacher, she joins…