Bird photographer captures bald eagles hunting fish in Alaskan seas
December 14, 2022
For a British-born bird photographer living in Alaska, the trio of ideal conditions of wind, sun and tide came together in one magical day. The result was a dynamic photo of a bald eagle with a six-foot wingspan snatching its dinner from the surface of the sea, with a composition so perfect it rivals a painting.
Alan Murphy, 62, is a full-time professional bird photographer living in the Rocky Mountains of Colorado. He likes to aim for a "complete portfolio" of a bird's life, including photos of birds posing, mating, hunting, showing off and singing. For the past 20 years he has led photographic expeditions across the United States and abroad.
On an expedition to Kachemak Bay just outside of Homer, Alaska, his group lucked out.
"Here we have hundreds of bald eagles hunting in the coves of the bay," Murphy told The Epoch Times. "I rent landing craft where the front of the boat can go down to water level, which allows us to have our cameras at water level. We can take hundreds of images, with just a few "guardians" with the eagle close enough or showing a dynamic pose. »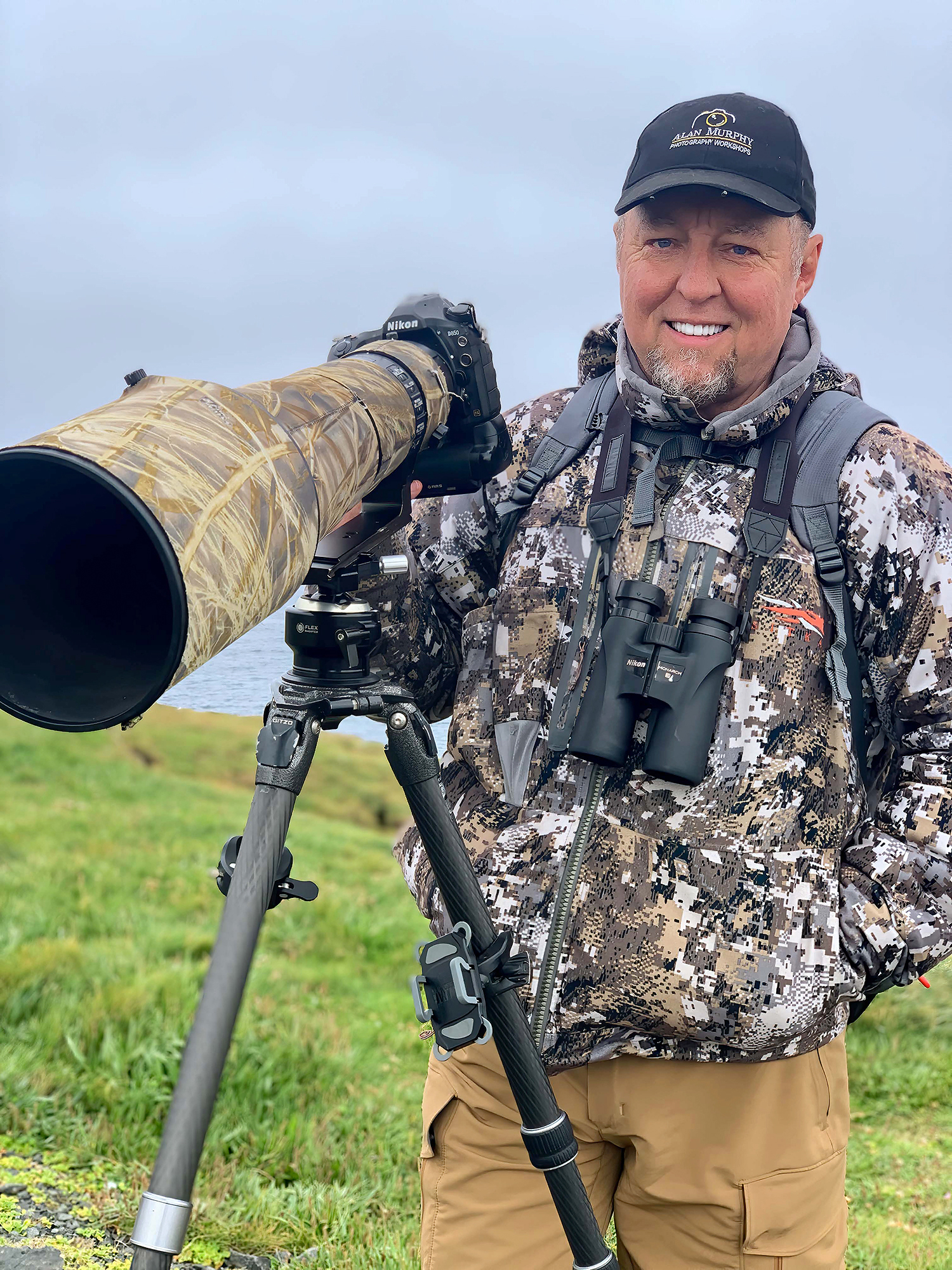 Murphy captured the majesty of bald eagle hunting to perfection in a photo of a banked eagle, with one wing touching the water and a fish in its talons. The image has since gone viral on social media and has seen netizens flock to Murphy's comments section in their thousands.
He said: "It shows the beautiful Alaskan landscape in the background and two more eagles ready to try the fish in case this one runs out. The position of the wings is also very powerful in this image; all the elements of wind, sun and tide came together on this day.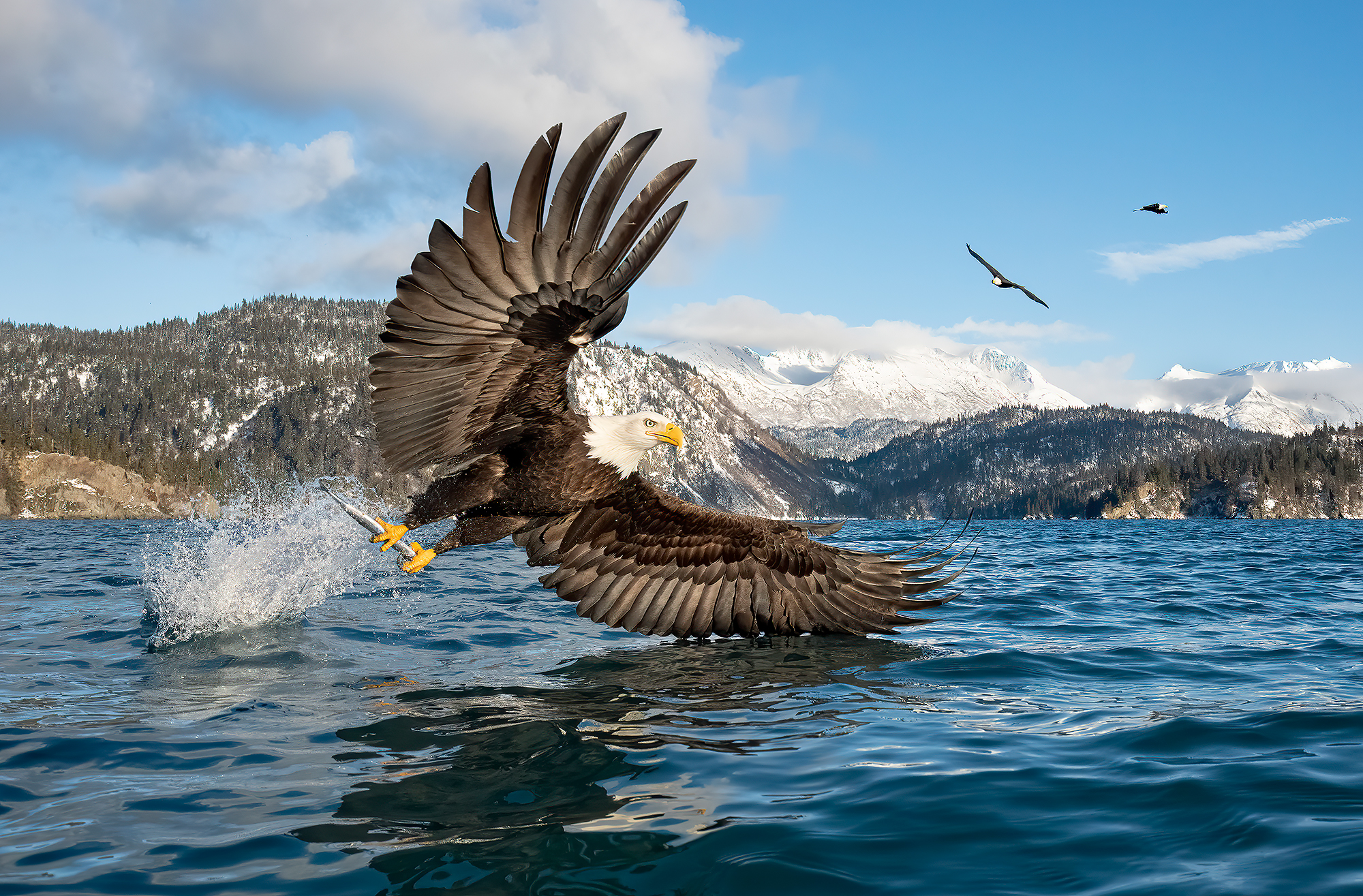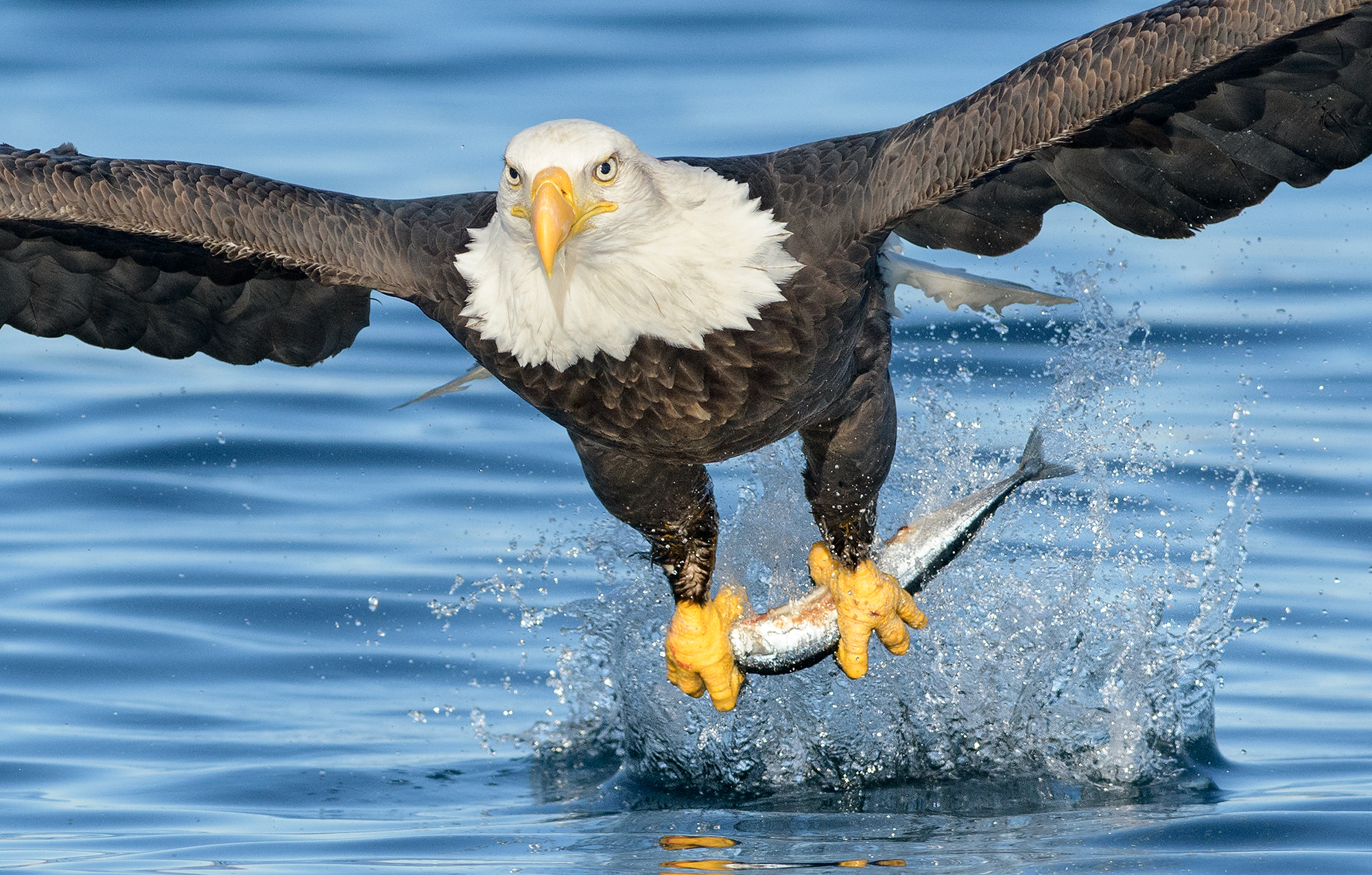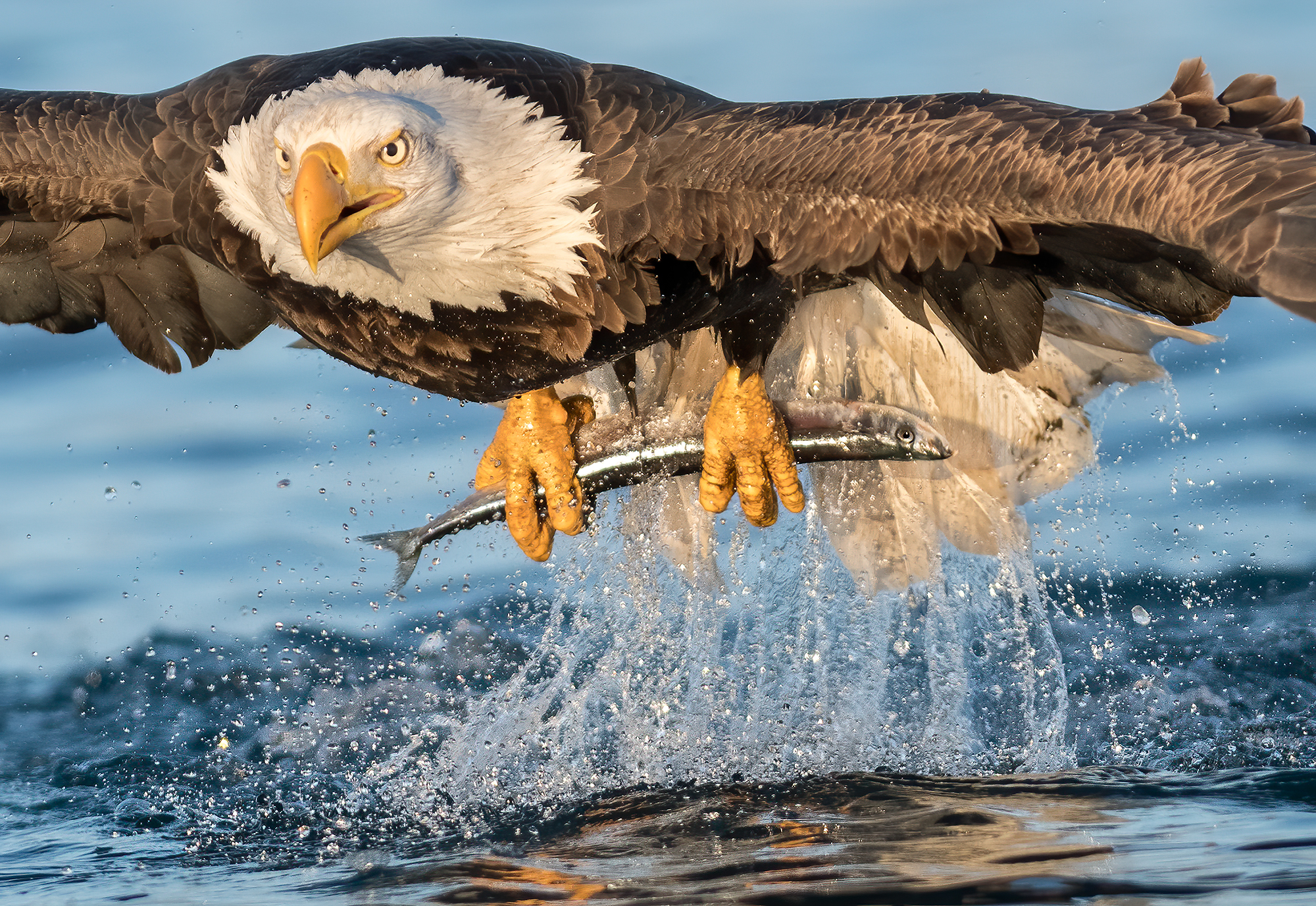 Getting crisp, wide-angle shots of eagles fishing in the Alaskan Sea requires checking the right conditions every day.
"The direction of the sun dictates an afternoon shot, because we need light on the mountains, the tides need to be high, in order to get the boat to the back of the creek, and we need wind at our back so the birds will face us as they catch the fish," he said.
With the right conditions, Murphy and his crew anchor their landing craft, lower the ramp, and set to get their lenses level with the water. Then it's just a matter of waiting for the birds to "do their thing".
Murphy, who shoots with a Nikon Z9 camera and 600mm lens, said one of his favorite facts about the fishing habits of these majestic birds is that they rarely catch fish weighing more than five pounds.
"When they do, they approach with the talons facing forward," he said. "Once they catch the fish, they roll over it and use their powerful wings to pull the fish out of the water. Mature adults do this in one smooth, effortless motion. [It's] an incredible thing to see, let alone photograph.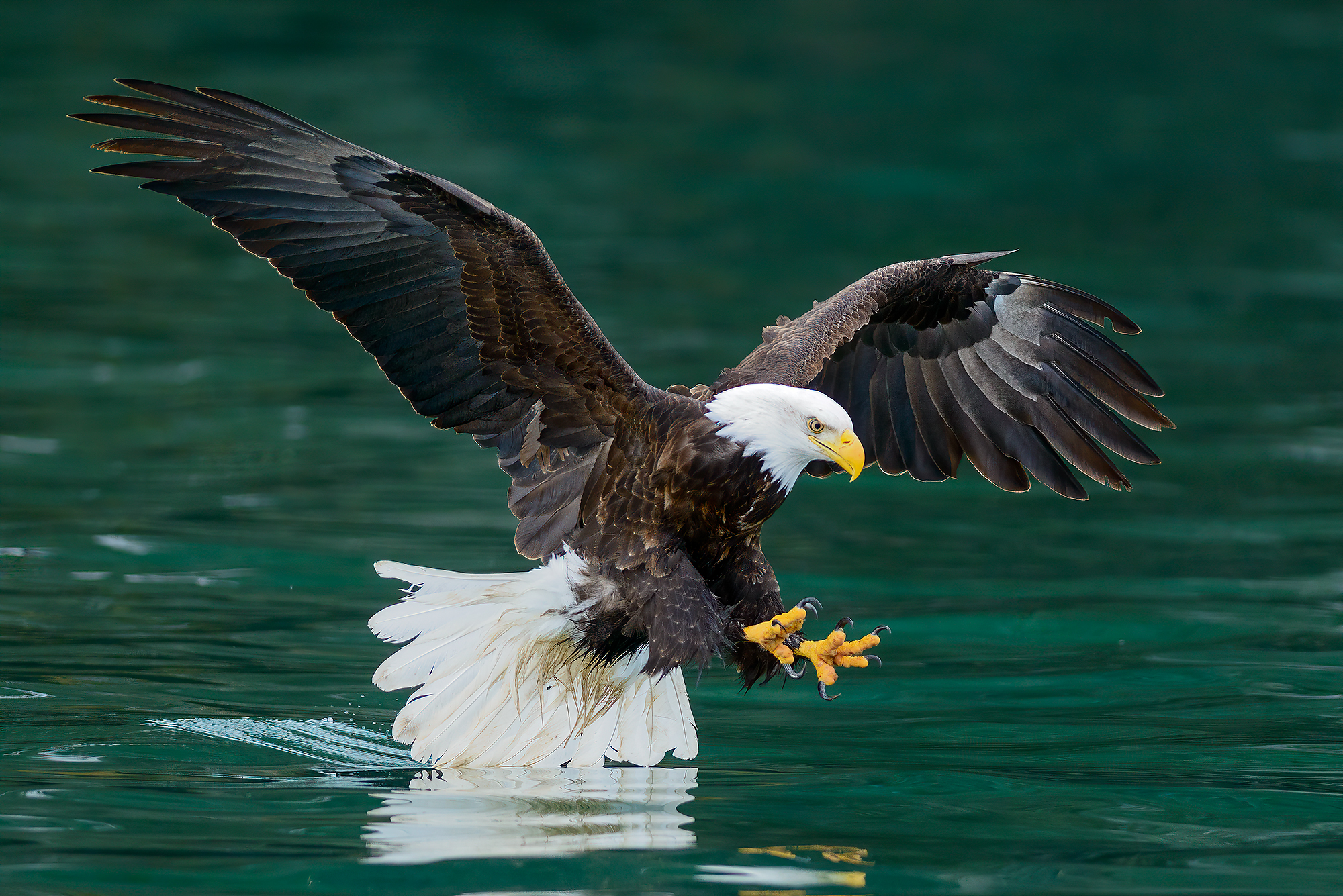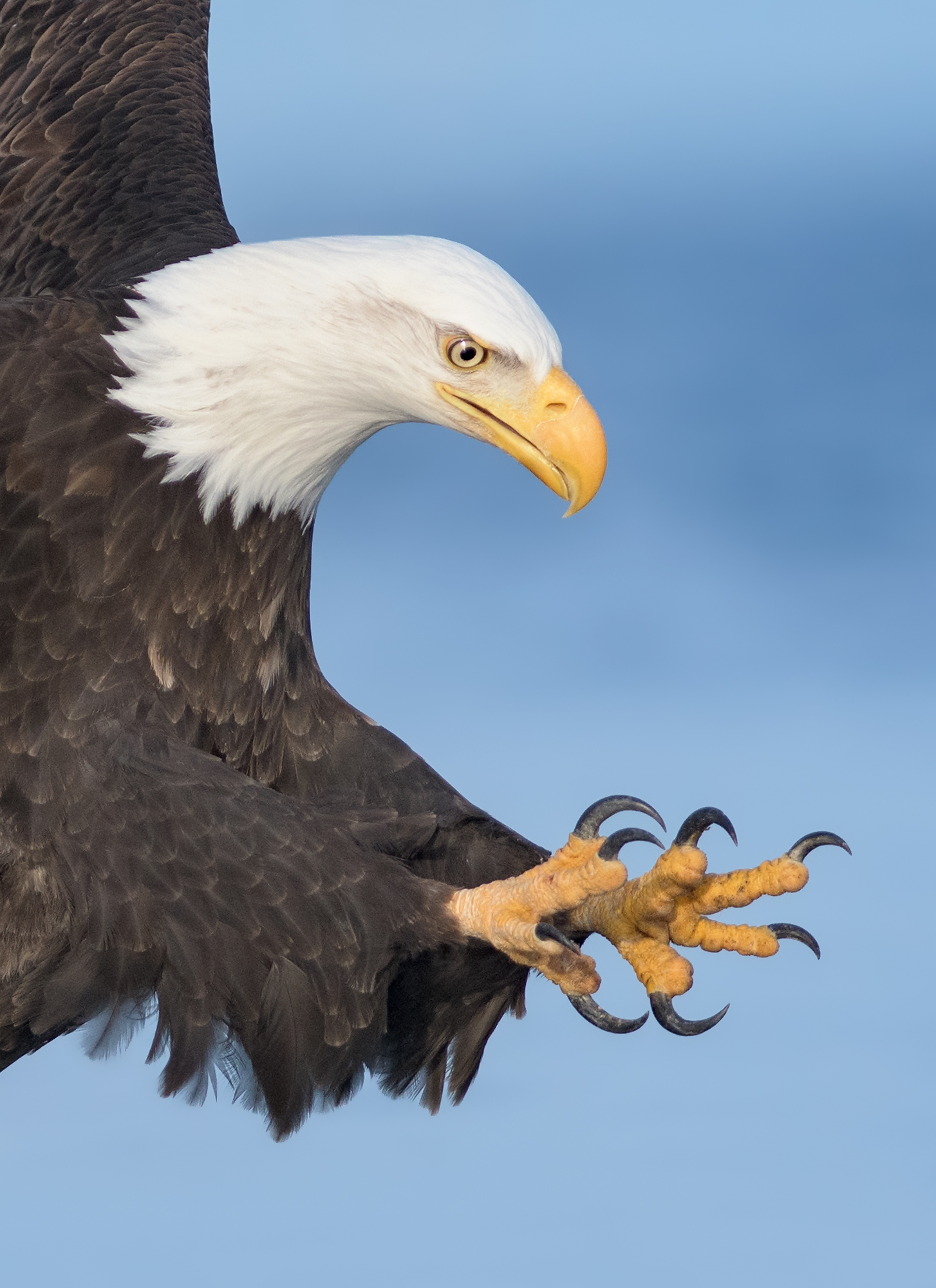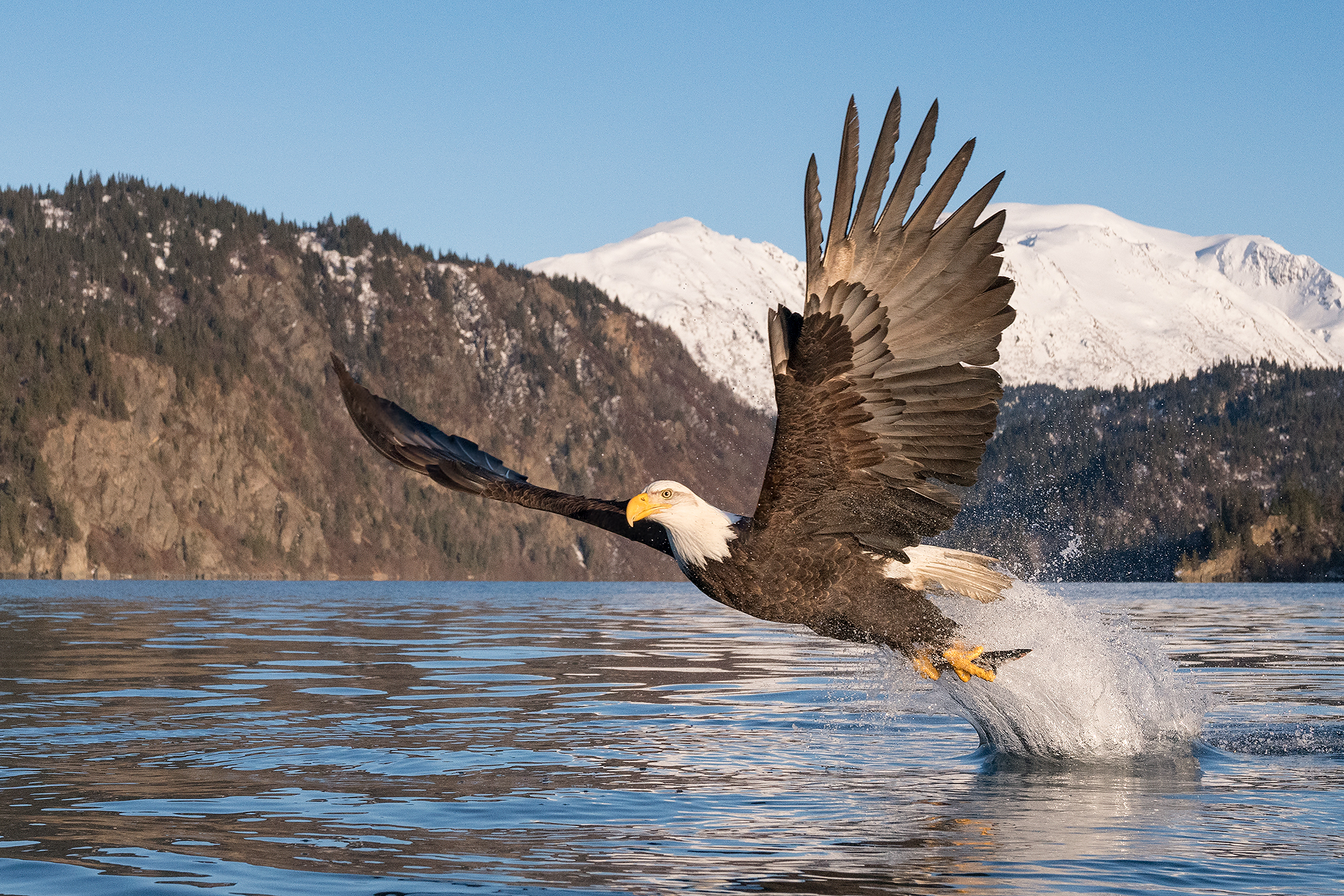 Murphy was born in London, England to Irish parents, and grew up in the suburbs of Dublin where he had many farms and woodlands to explore. He quickly developed an interest in birds and spent his free time studying their behavior.
He graduated as a barber and practiced for 30 years, immigrating to the United States at age 24 and opening a barber shop. He also borrowed a camera and a telephoto lens to explore the many native bird species he had never seen before.
"I quickly fell in love with the challenge of getting closer to my subject, the learning technology of camera exposure, and the creativity of forming an image I had in mind. I found new love and a new hobby," Murphy said. "I used to spend my weekends taking pictures of birds to recharge my batteries.When I turned 40, I decided to change careers.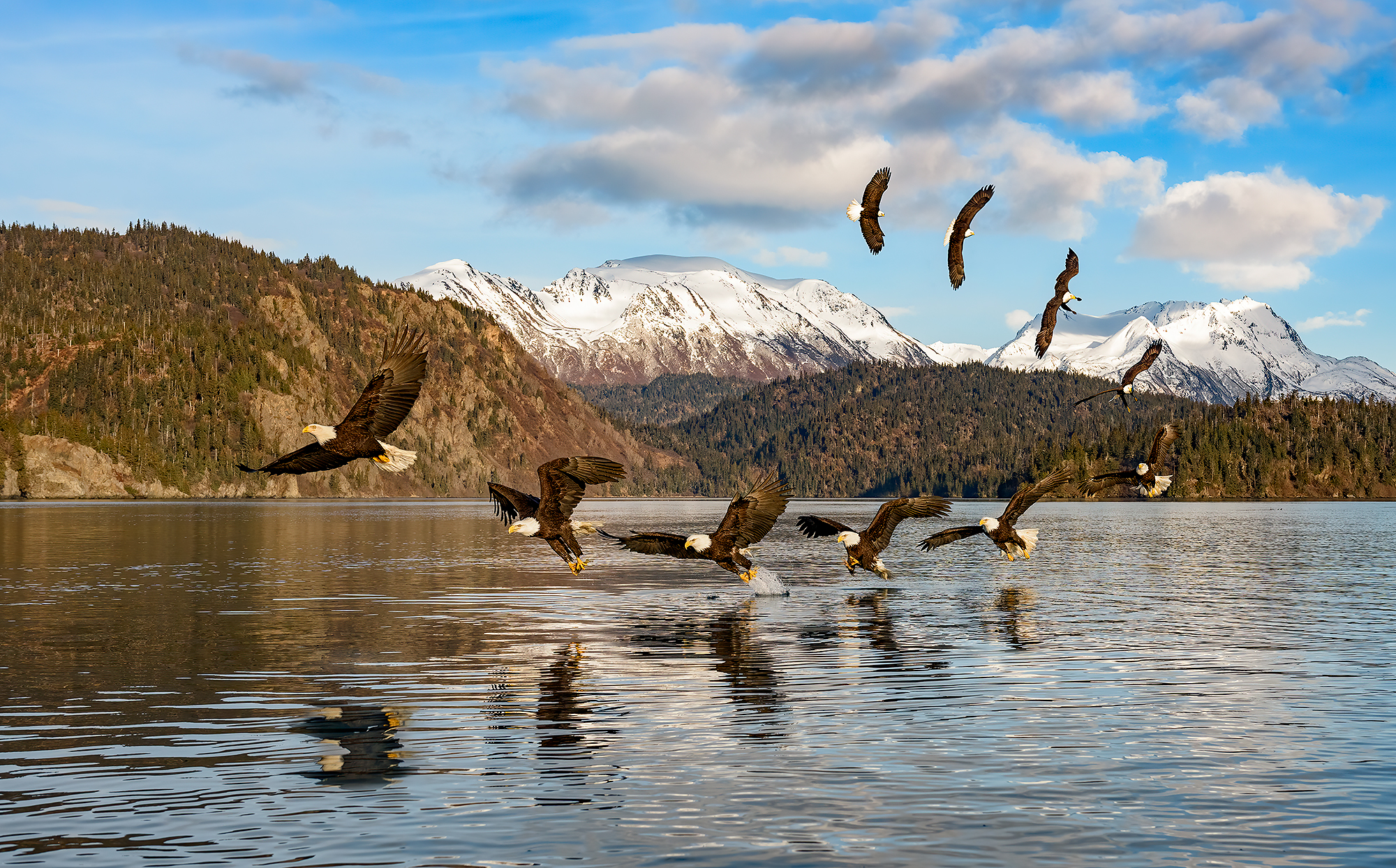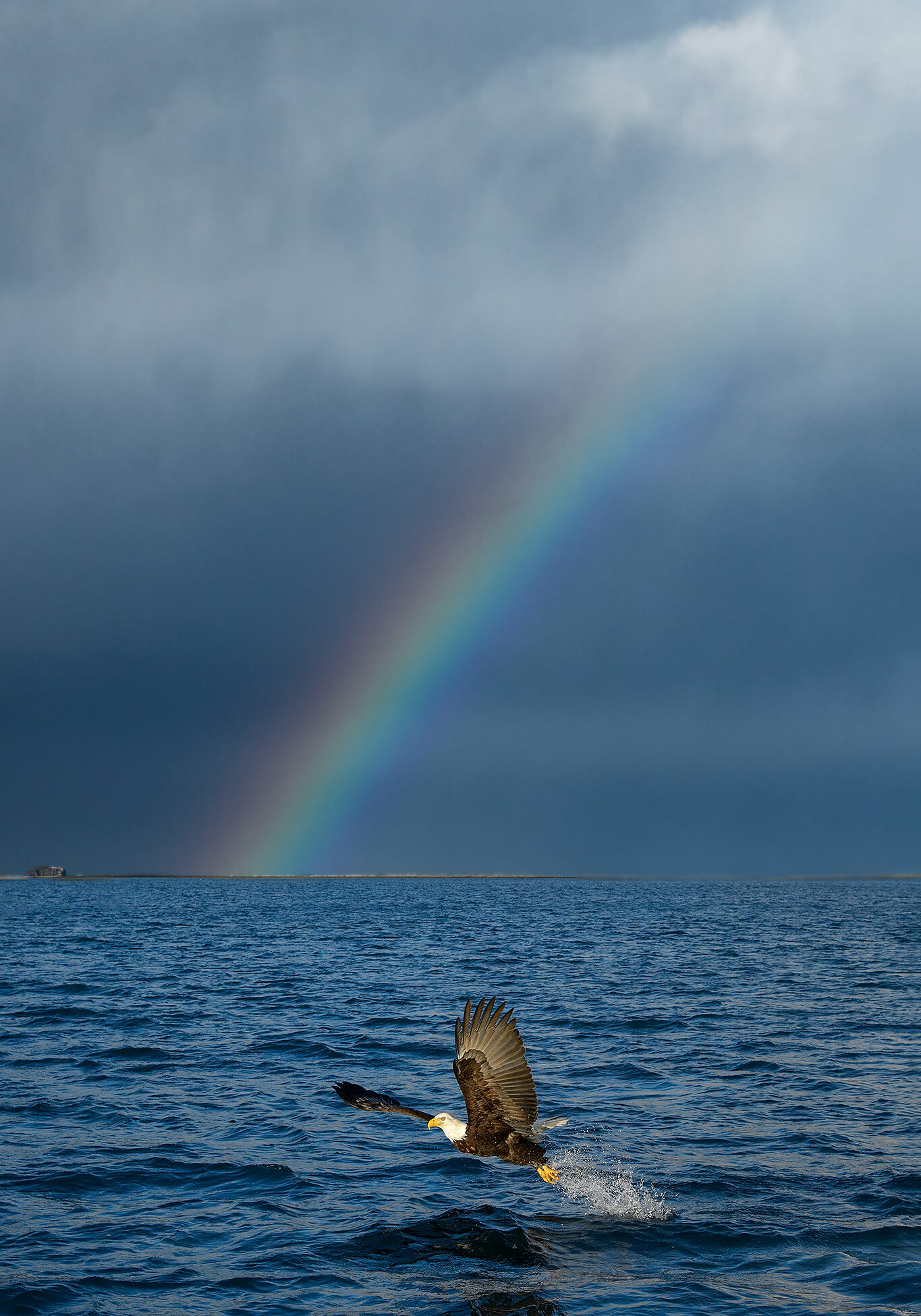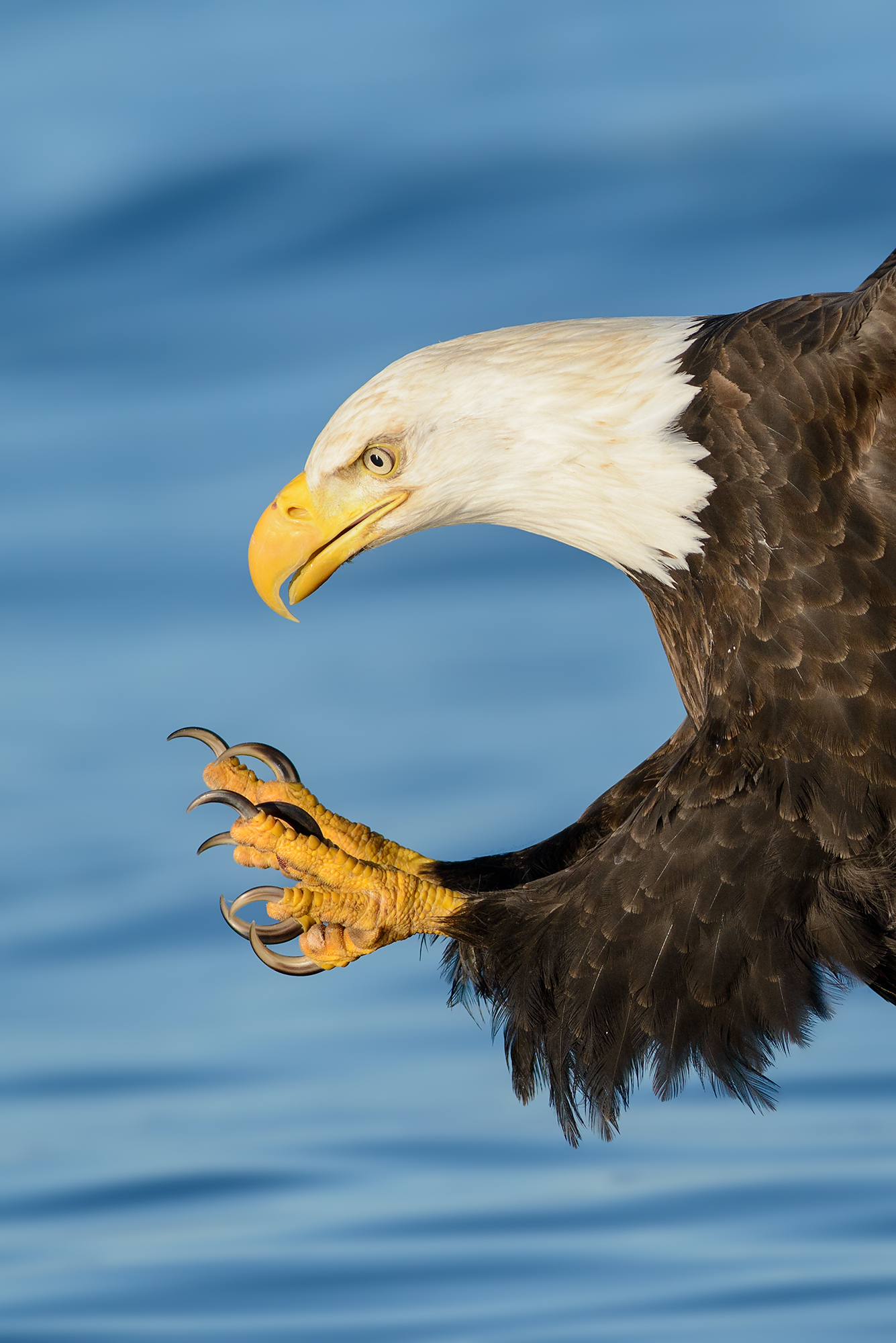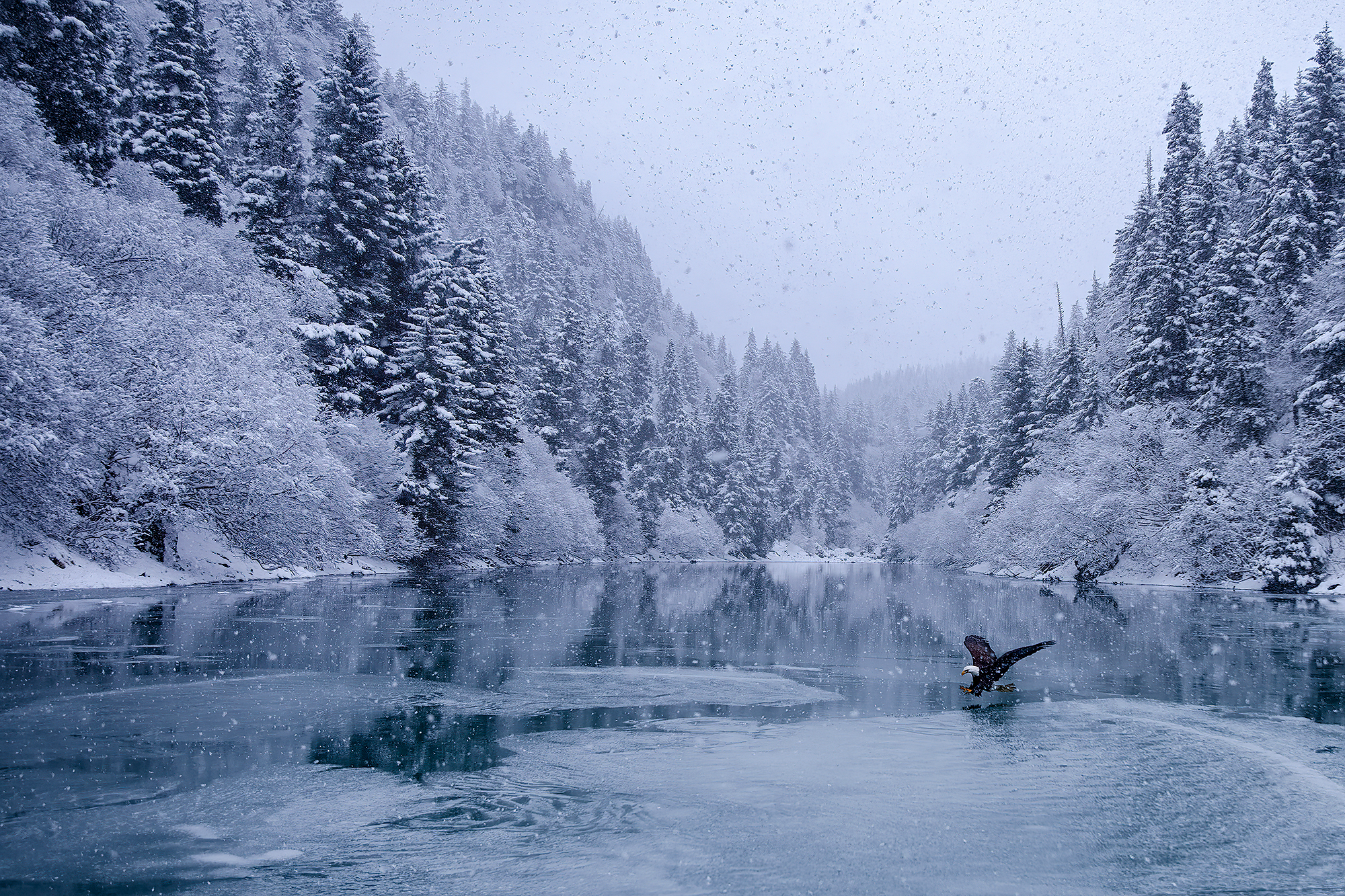 At first, Murphy took pictures for the field guides with the birds in full frame. As his practice grew, he began to include more habitats and complex action plans. He was always inspired by the self-taught American artist and ornithologist, John James Audubon.
"Audubon's paintings always inspired me, because he had each species painted with the appropriate vegetation or perch," Murphy said. "I try to emulate this in my work, with species on beautiful perches and clean backgrounds."
Today, Murphy shares his work on his website, where he also invites his subscribers to stay informed with a monthly newsletter.
Share your stories with us at [email protected], and keep getting your daily dose of inspiration by signing up for the Inspired newsletter at TheEpochTimes.com/newsletter