Best Prom Dress For Every Body Type
December 20, 2022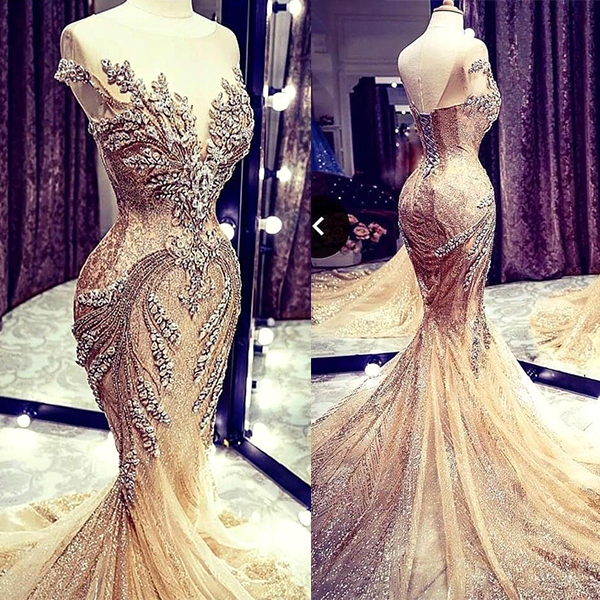 Prom night is a special event for many high school and college students, and choosing the perfect dress is an important part of the experience. With so many styles and designs to choose from, it can be difficult to choose the best dress for your body type. That's why we're here to help.
Our blog post "Best Prom Dress for All Body Type" will provide helpful tips and tricks to help you find the perfect prom dress that matches your style and flatters your figure. From A-line silhouettes to empire waists, we'll explore the different dress styles that best suit your body type. We'll also give you tips on how to accessorize and complete your look with the perfect hairstyle and makeup.With these helpful tips and tricks, you'll be sure to find the perfect dress to show off your unique shape and style. the night of the ball.
Dress for All Type of body
Are you a blushing beauty or a statuesque goddess? Whatever your body type, prom is the perfect opportunity to dress up and show off your best assets. With such an array of styles available, it can be hard to decide which one will look best on you. To help you out, here's a look at the best prom dress for different body types.
If you're petite and slim with delicate curves, try silhouettes that draw attention to your waistline like an A-line or fit-and-flare dress. Keep the neckline simple but avoid boxy cuts as they can make your frame look wider than it actually is. For curvier silhouettes, try empire waist dresses that skim over all those extra elements while accentuating your curves in all the right places. If you have large breasts, opt for a bare back or sweetheart neckline that draws the eye downward. If you're tall, you can wear almost any type of dress, but if you're petite, choose long prom dresses with high slits to elongate your figure.
Petite: Short styles
Whether you're petite or average, there are plenty of stunning and flattering looks that will make you feel like a princess on your special night. For those who are petite, shorter styles are the way to go for the perfect prom dress.
Look for dresses that have an empire waist or an A-line silhouette, as these styles flatter a petite figure and look very elegant. Avoid dresses with loud patterns, as they can be overwhelming when worn in small sizes. Opt instead for solid colors and fabrics with more subtle details like ruffles or lace. Strapless dresses can also be great options to show off your shoulders and create a longer line across your torso. Don't forget to accessorize with trendy jewelry like earrings or bracelets to complete your look!
Pear shape: A-line or empire waist
For girls with pear-shaped figures, finding the perfect prom dress can be quite the challenge. The key to making sure the dress looks good is to focus on the areas you want to enhance and minimize the sections you want to conceal. Two great options are A-Line and Empire Waist dresses, both of which flatter your body shape.
An A-line dress is fitted at the waist and flares out towards the hem, creating an "A" shape that draws attention away from your lower half. This style also cinches the waist for a more defined silhouette. Empire waist dresses have their seam just below the bust and flow freely over your hips, providing coverage without showing off too much. They also come in a variety of lengths so you can choose the one that's right for you!
Apple shape: flattering color and fit
If you're looking for the perfect prom dress, finding one that flatters your body type is key. Apple shapes are especially common and require dresses that can help you look your best. When dressing in an apple shape, it's important to choose a color and cut that suits your body type so you can look fabulous on the big night.
Darker colors, like navy blue or black, are great choices for apple shapes because they minimize problem areas around the midsection and draw attention away from them. A-line silhouettes also work well in accentuating curves in all the right places while creating volume in the lower half of your outfit – this helps balance any extra weight around your midsection. Additionally, wearing dresses with higher necklines will elongate your upper body while keeping any extra bulk hidden under wraps.
Hourglass figure: V-neck and fluid fabric
The hourglass figure is one of the most sought-after body types. If you have curves in all the right places, then a dress that emphasizes your waist and creates an hourglass figure is just what you need. V-neck dresses with a fitted bust and flowing fabric are sure to flatter this classic body shape.
When shopping for your perfect prom dress, look for silhouettes like fit-and-flare silhouettes or A-line styles that hug curves in all the right places while creating volume at the bottom. Accentuating your waist with a belt will also help define it more. Look for dresses made from lightweight fabrics like chiffon or crepe, as these will let your natural shape show through without feeling too tight.
Inverted Triangle: Balancing the Proportions
Struggling to find the perfect prom dress for your body type? An inverted triangle shape is one of the most common figures, but it can be difficult to find a dress that flatters and shows off your natural curves. To make sure you look amazing on that special night, there are a few tips and tricks you should follow while shopping.
The first thing to remember when dressing an inverted triangle is to balance the proportions. If you have broad shoulders, opt for a dress with frills or frills on the lower half which will make your hips appear wider in comparison. A cropped skirt paired with an off-the-shoulder top is also a great option as it adds width to balance out your wide frame. For extra definition around the waist, try adding a belt or wrapping a ribbon around it; this will create shape and draw attention away from your upper body.
Rectangular shape: accentuate the size
For girls looking for the perfect prom dress, it can be helpful to consider their body type and the styles that work best for them. Those with a rectangular shape may want to emphasize their waistline to create a more hourglass figure. To do this, they should opt for dresses that are fitted at the waist and have a full skirt or an A-line cut. Maxi dresses are especially flattering for those with a rectangular shape, as longer hemlines can help balance the figure. Additionally, halter necklines or one-shoulder dresses can draw attention to the face to create an hourglass effect. Asymmetrical necklines are also popular among those with this body type because they add curves without emphasizing the hips and lower half of the body.
Conclusion: Find the right dress
The prom is an event that many teenagers look forward to. Whether you're looking for a classic silhouette, a modern twist, or something else entirely, the right dress can make your prom night even more special. Knowing which dress style matches your body type will help you feel beautiful and confident on that important night.
It's normal to have second thoughts about finding the perfect dress, but as long as you know what looks best on you and take the time to try on different styles, you can find the perfect one for you. With so many different designs, fabrics, and colors available today, it won't be hard to find a dress that perfectly matches your style and figure. All it takes is a little research and trying on different outfits until you find one that makes you feel amazing!
Media Contact
Company Name: biztunnel
Contact person: Media Relations
E-mail: Send an email
Phone: 8613814814319
Address:Rm.1501 Grand Millennium Plaza (Lower Block), 181 Queen\\\'s Road Central
City: hong kong
The country: hong kong
Website: http://www.biztunnel.com