Béla Fleck and Abigail Washburn have been working on a new song cycle with the Colorado Symphony that will premiere Thursday at the Vilar Arts Center in Beaver Creek, then play Friday and Saturday at the Boettcher Concert Hall in Denver.
"You bet we'll be at the Boettcher," Fleck said – such a bad pun it just had to be repeated here.
You might be wondering what a "song cycle" is.
"Well, we were wondering the same thing," Fleck said. "But we worked very hard to create it. It's a set of songs and stories that go together, written by us as well as traditional material.
It also includes, Washburn added, some contributions from the late Hazel Dickens, a real coal miner's daughter and one of the first women to record a bluegrass album.
The program will include "Dance Suite BB86a" by Bartók, "Appalachian Spring: Suite" by Aaron Copland and the premiere of "Dreams in Flight" by Fleck and Washburn.
"This piece is going to have classical elements, old dead Appalachian elements, and some things I wrote for the orchestra," said Fleck, perhaps the world's best-known living banjo player. He's the namesake of Béla Fleck & the (mighty, mighty) Flecktones and a 16-time Grammy Award winner – most recently for Best Bluegrass Album of 2022, "My Bluegrass Heart." His wife, with whom he won the 2016 Grammy for Best Folk Album, is not only an acclaimed clawhammer banjo player, she is a graduate of Colorado College in Colorado Springs. The couple have been dubbed "banjo royalty" since they married in 2009, and they are now parents to two sons.
Marin Alsop drops Oscar nominee 'Tár' best man | John Moore
The new song cycle, Washburn said, will unfold in three movements led by Scott O'Neil.
"The first is how we're always looking for something better and often don't find it the way we thought," she said. "The second is about regret, and the third is about finding the spark to carry on and finding peace in the human condition."
And if that sounds like a disappointment at all, Fleck chimed in: "It all works out in the end."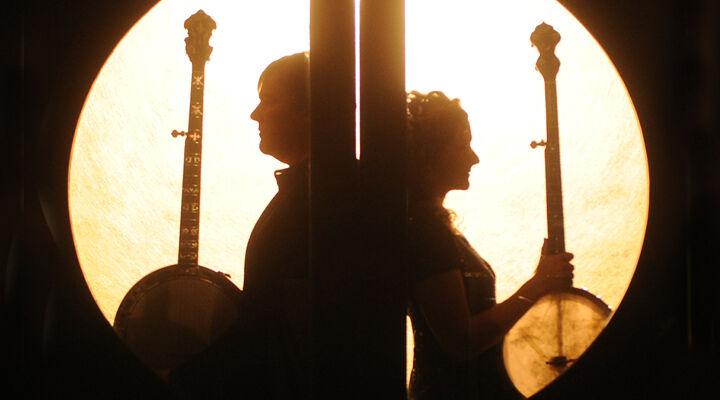 Fleck and Washburn answered questions via email from The Denver Gazette ahead of their return to Colorado this weekend:
John Moore: What's the secret to your – or any other – successful musical partnership?
Bela Fleck: It's about respecting your collaborator and really listening to yourself. The fact that we are married can make it complex, because we can take things personally when your idea is rejected. But if you can get over that hurdle, there are a lot of good things about being a couple making "beautiful music together." (Look what I did there?)
John Moore: Abigail, having attended Colorado College, is there any additional personal significance for you to make this appearance with the Colorado Symphony?
Abigail Washburn: Yes! I could never have imagined when I was a student at CC that music would be my career and that I would one day perform with the Colorado Symphony. I believe CC trained me to have the curiosity, skills and courage to try new things and walk through intimidating doors that have opened up throughout my life.
John Moore: Béla, what is special for you about playing in Colorado?
Bela Fleck: Colorado was one of the places that seemed to "get me" from the start. I know he's a big audience for a lot of unusual music, and I'm so thankful he's so supportive of the non-centrist music community. That's probably why it's a place where me and Abigail do a song cycle with the Colorado Symphony Orchestra is a great match. There are cities where it wouldn't work at all. Thank goodness for Colorado!
John Moore: Béla, who else do you love to see playing the banjo?
Bela Fleck: I always love to hear my teacher Tony Trischka play. I always have, I always will. Earl Scruggs and JD Crowe, both no longer with us, were amazing to watch.
John Moore: For those more used to seeing you at Red Rocks and seeing the Colorado Symphony Orchestra at Boettcher Concert Hall, what are we going to do when we see your new song cycle come to life backed by a full orchestra, all under the same roof ?
Bela Fleck: This piece is truly unique. Like it or not, you'll have to say you've never heard of anything like it. We've been working hard on this music for a while, so we're deeply invested in it — and we love it!
John Moore: A precise overview of your selections of Bartók and Copland?
Bela Fleck: This will be an opportunity for the orchestra to shine without the banjo players!