Amy Winehouse Biopic Called 'Cringe' – 'SNL Could Do A Better Job'
January 17, 2023
Amy Winehouse is the latest musician to get the biopic treatment with the upcoming Back to black. However, fans are furious that the film is set on his life.
Behind-the-scenes photos have been shared from filming in central London, England. The images show actress Marisa Abela, who plays the late singer, and actor Eddie Marsan driving through London, but the brief preview provided enough information to pass a harsh judgment on the film.
Fifty shades of Grey director Sam Taylor-Johnson is directing the biopic.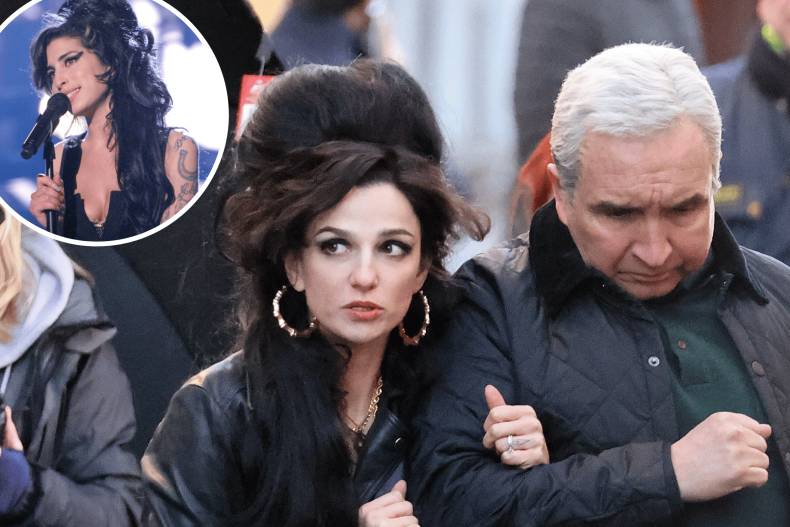 There's currently no release date on the project, but behind-the-scenes footage taken by Neil Mockford has seen people comment on the film's quality.
The photographs were taken on January 16, showing a scene where Amy and Mitch Winehouse (her father) enter Ronnie Scott's Jazz Club in Soho, London. Marisa wears the late singer's signature beehive hairstyle, complete with a black handbag, leather jacket and mini dress.
"It makes me very nervous about this film," wrote Touré, the podcast host. Touré show on Instagram. Another commenter, @lesermatt slammed, "This whole project is […] cringe."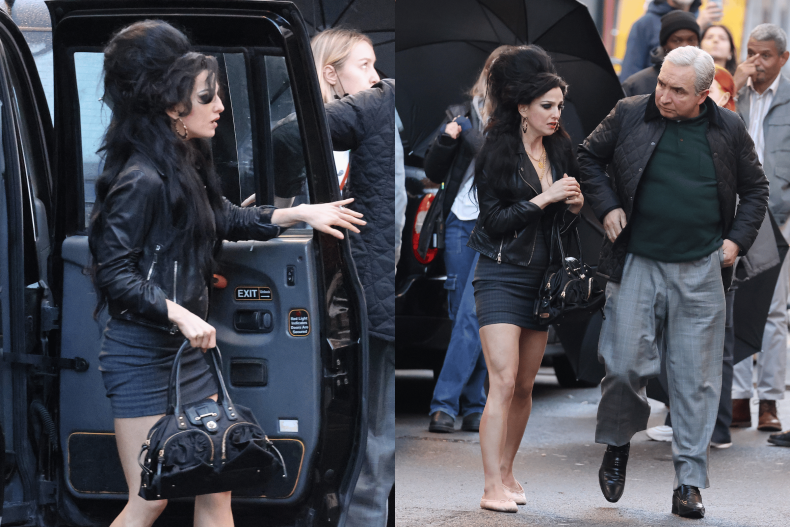 Popular pop culture Instagram account Diet Prada shared the images that got people talking. Many verified users weighed in to comment.
The model and Laid actor Leyna Bloom was cutting with her assessment. "Nahhhhhhh This is New Jersey Halloween costume giving. Not magic movie pics," she wrote.
Comedian and writer Phoebe Robinson thought this was representative of the problem with biopics in general. "This is not a good start. Can we please [leave] the deceased alone? More often than not, these biopics are a waste and an exploitation," she wrote.
Singer and Ru Paul's Drag Race Judge Michelle Visage simply wrote "enough" in all caps.
The account that shared the footage, Diet Prada, has already derailed the project by highlighting a low point in director Taylor-Johnson's career. "Spotted: Marisa Abela as Amy Winehouse filming the Amy Winehouse biopic of Razzie Award-nominated director Sam Taylor-Johnson Back to black." She received the Razzie nomination for directing Fifty shades of Grey in 2015.
"SNL could do a better job," user @tomas_larcombe wrote while @kate_selkie joked, "Amy house wine."
Actress Abela is a relative newcomer with some major career credits to date. The 26-year-old has starred in BBC and HBO series Industry as well as recent British films she is love and Rogue Agent. In July 2022, it was announced that she would star alongside Margot Robbie in Greta Gerwig's Barbie.
"Why does the actress playing Amy Winehouse look like Anna Farris filming a scene for horror movie 32?" @benjec83 weighed in as the reactions continued on Twitter.
Writer and critic Kayleigh Donaldson admitted she didn't have high hopes for the biopic. "I can't wait to see a whitewashed biopic of Amy Winehouse where her father is a shining angel and Amy's many problems become walk hard-esque parody," she said.