15 trending haircuts you'll be asking for in 2023
December 15, 2022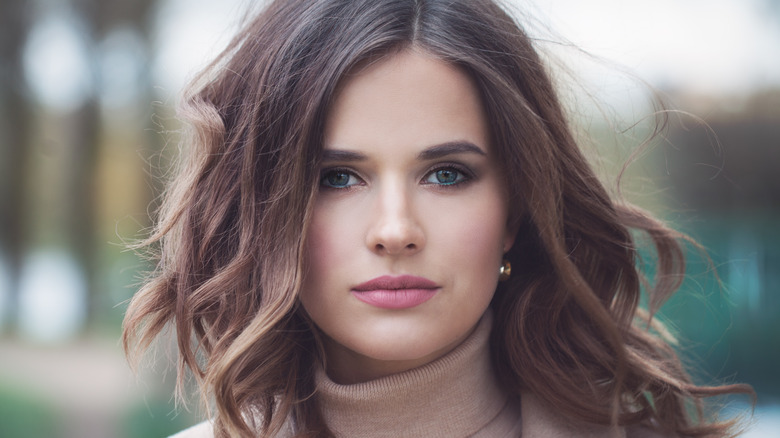 MillaF/Shutterstock
Hair trends come and go, but there's no better time to try something different than the New Year, which is why it's a great time to visit your hairstylist. If you've been paying attention to social media lately, you've no doubt noticed some of the hair trends that are all the rage right now. Whether you're a do-it-yourselfer or just trust your hair to your beloved stylist, trends like butterfly, octopus, and wolf haircuts are popping up everywhere. People are using their hair as an extension of their personal style more than ever, which means now is the perfect time to get the haircut you covet. The beauty of hair is that if you don't like it, you can always grow it out and try something different.
Whether you're in the mood for a drastic change or just want an update, the hottest hair trends of 2023 have something for everyone. Short hair is "going to be the haircut of 2023," hair pro Larry King tells Glamour. "I think girls will really go ahead with short hair," adding, "it gives you so much individuality and makes you stand out – it's really striking."
From variations of the classic bob haircut to different lengths and layers, we're here to give you all the inspiration you need to start 2023 off with a bang. (Get it? Bang!) Here are 15 trending haircuts you'll be asking for all of 2023.
butterfly hair
If you fancy cutting your hair short but aren't quite ready to commit, a butterfly haircut may be just what you need. Shorter layers frame the face, giving volume and the illusion of shorter hair while longer layers sit below the shoulders. Biolage Global Ambassador Sunnie Brook created the look and told Hair.com, "Anyone can try this cut, but it's best for wavy or curly hair."
The soft bob
The soft bob is a looser, more relaxed version of the classic, more structured bob. It allows you to embrace the movement and texture of your hair without the straight, sharp lines that we usually associate with a bob haircut. This cut is amazing if you have natural waves in your hair, while adding texture and movement to those with fine hair.
long layers
We see a lot of shorter haircuts emerging as trendsetters in 2023, but long, layered locks will never go out of fashion. Layers help add body and movement to long hair and work especially well with hair that already has a natural wave or texture. They are also easy to maintain, look great when you grow them out, and give you versatility when it comes to styling your hair.
Chanel haircut
A modern take on the classic Coco Chanel bob, the Chanel bob is usually cut at the chin, or slightly longer, and has lots of movement. This look has a deep side part and is often paired with bangs which give it a Parisian feel. Its simplicity makes it super sexy and elegant, but what is even more appealing about this haircut is that it is low maintenance.
octopus haircut
Loosely resembling the shape of the sea creature it is named after, this cut will give you lots of layers and volume on top with longer layered pieces that fall on or past your shoulders. The octopus cut is the new take on the shag and mullet that we've seen dominate the trends lately. Not only does it look great, but it's also easy to wear because it doesn't require a ton of styling.
wolf cup
The wolf cut can be described as the love child of the shag and the mullet and has recently seen a huge boost in popularity thanks to thousands of TikTok users taking scissors through their hair as they tried to create the look. at home. If you like a cut that will give you volume at the top of your head with a bit of movement and texture near the sides and bottom, this look may be for you.
The Elf
Short hair is going to be big in 2023, which means we'll be seeing a lot more pixie haircuts with lots of different variations on the classic look. Celebrities like Zoe Kravitz, Halsey, Charlize Theron and Florence Pugh are all fans of the pixie and show how gorgeous it is. Whether it has slightly longer bangs, a bit of length at the back, or an all-over cropped cut, you'll see plenty of pixie cuts in 2023.
Wispy bangs
Wispy bangs are coming in strong for 2023 — and for good reason. These look amazing on almost anyone and add softness and movement to every hairstyle, regardless of length. "Wispy bangs are so trendy right now because they're low maintenance for blunt bangs," celebrity stylist Nubia Rëzo told Real Simple. If you're looking to try bangs in 2023, wispy bangs are a great choice.
Short fuck
The combination of these two hot styles has created one of the most popular looks you'll see in 2023. Just because you don't have long hair doesn't mean you can't rock a shag cut. This look is also great if you wanted to be shorter but don't want to commit to a full pixie cut or a short bob. This shag gives you lots of movement and is great for all hair types.
Short bob curtain shot
Curtain bangs add softness to a short, blunt bob. In fact, stylist Anabel Santos explained to Bustle that "a blunt bob, or a bob that's the same length all around, is made softer with the addition of curtain bangs," and we have to be d 'OK. Curtain bangs give you a few different styling options with a short bob that you might not have without them too.
medium length hair
We've talked a lot about short haircuts for 2023, but medium length hair will still be popular in the new year. We see a lot of mid-length cuts embracing texture and showcasing waves, making this cut not only gorgeous to look at but easy to style and maintain. The bombshell blowout is also making a resurgence for 2023 and looks amazing on shoulder length hair.
Full loops
Put those straighteners away because full, bouncy curls have a moment! After years of straight hair dominating trends, curls are back and more gorgeous than ever. Endless tutorials have been posted online illustrating how to rock your natural curls, helping to make it one of the hottest trends of 2023. Adding bangs is even more of a trend for the coming year.
curtain fringe
Curtain bangs aren't going anywhere in 2023, and for good reason. These long, face-framing bangs look great on almost anyone and suit a variety of hair lengths and textures. They are incredibly versatile and can be a great way to change your hair up a length without making a drastic change.
The curly shag
The shag works on many different hair types, and for 2023 the curly shag is going to be big. The shag adds volume on top while helping to reduce volume on the sides and ends. Adding curly bangs is another trending look for 2023 that highlights the face in all the right places.
The textured bucket hat
Low maintenance, sexy and chic are all adjectives that accurately describe the textured bob. Take a traditional bob and texturize the ends to add movement without having to add lots of layers. "It's a super soft bob with a grungy edge that works with so many different face shapes and hair textures," celebrity hairstylist Jay Birmingham tells Glamour. This is the perfect style if you're looking for something that requires less work.